Over 120 General Counsels from leading venture-backed technology companies and venture capital firms participated in the 3rd Annual Fullstack GC Conference, TechGC's private annual conference, which was held this year on April 12th at Automattic HQ in downtown San Francisco. Check out the highlights below:
Opening Remarks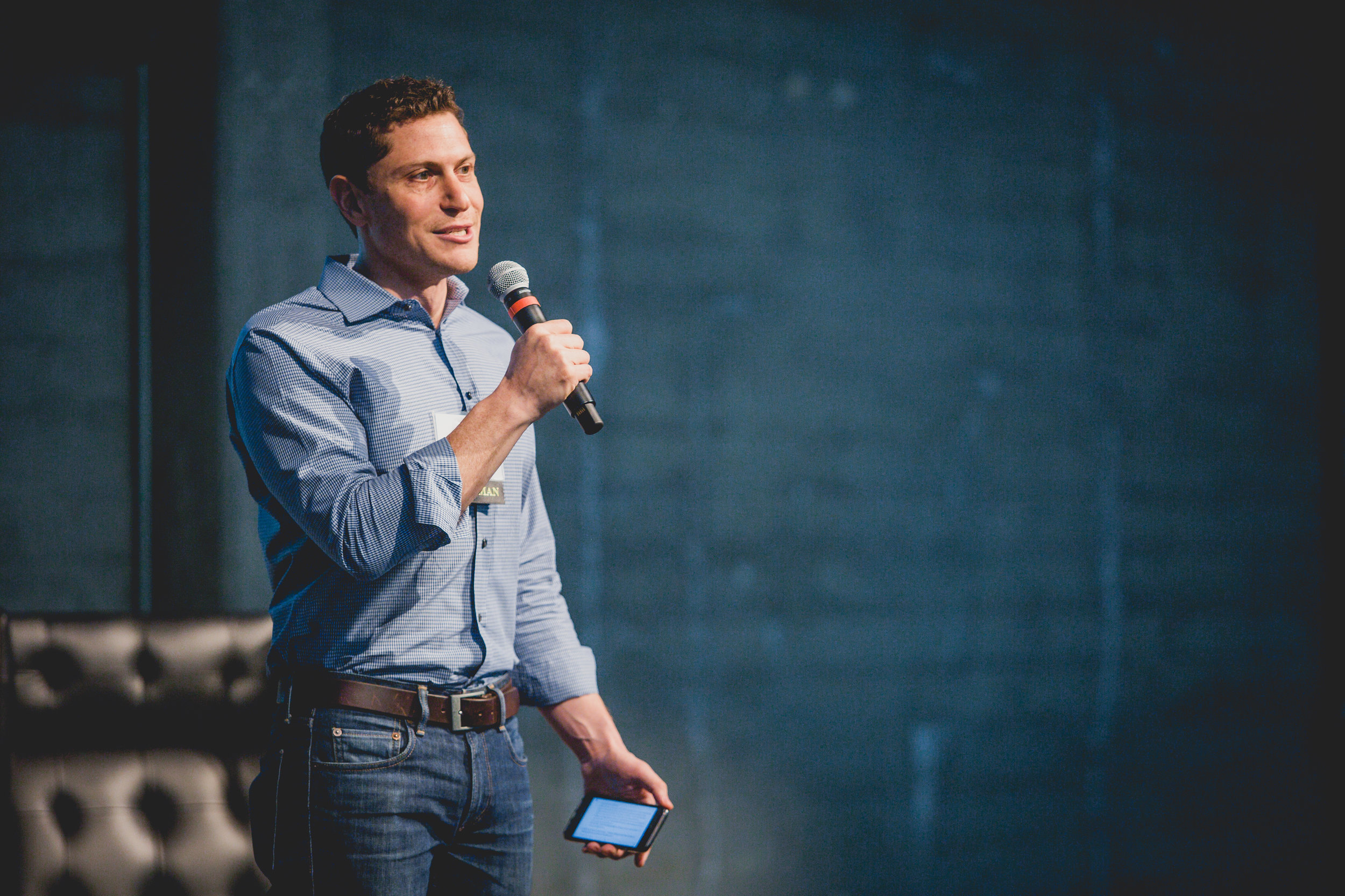 Greg Raiten, General Counsel, FirstMark Capital; Co-Chair, TechGC
Being a General Counsel at a venture-backed startup can be a very challenging, and sometimes isolating, role. Often you may the first and only lawyer at your company. You are expected to know everything about everything, and you need to strike an appropriate balance between your legal paranoia and your company's acceptable level of risk.
Kiran Lingam, Co-Chair, TechGC
TechGC and the Fullstack GC Conference grew out of an organic need for peer support and collaboration among its members, who now support each other through educational events, jobs, sharing data and informal advice on legal and business issues.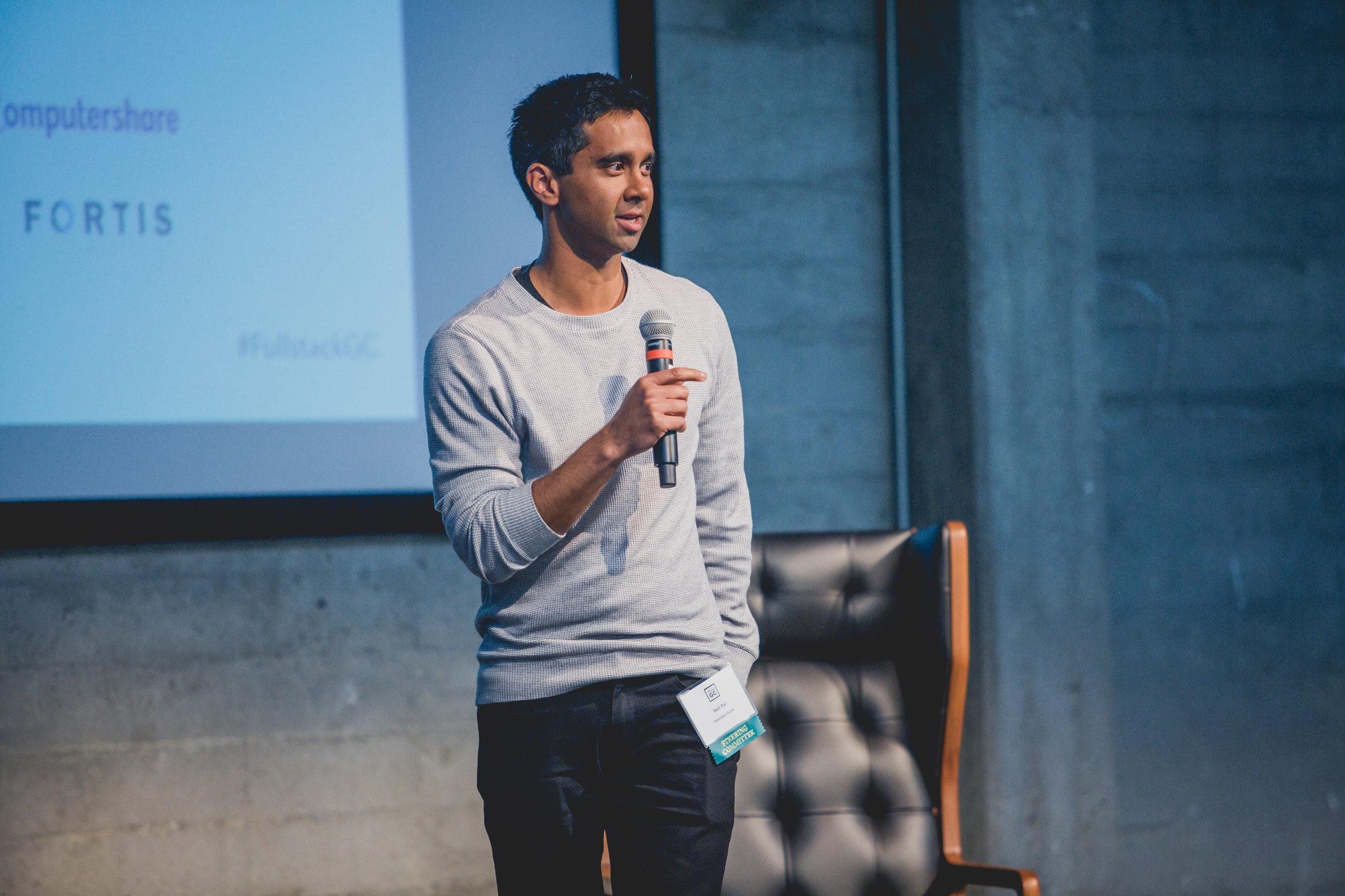 Neil Pai, General Counsel, Founders Fund; Steering Committee, TechGC
When engineers cross disciplines they are referred to as "fullstack." At the Fullstack GC Conference, members share practical peer-to-peer guidance for those GCs aspiring to be the "Fullstack GC."
Fireside Chat: Road to an IPO with Robin Schulman, General Counsel, New Relic and Paul Sieminski, General Counsel, Automattic
Robin Schulman, General Counsel, New Relic and Paul Sieminski, General Counsel, Automattic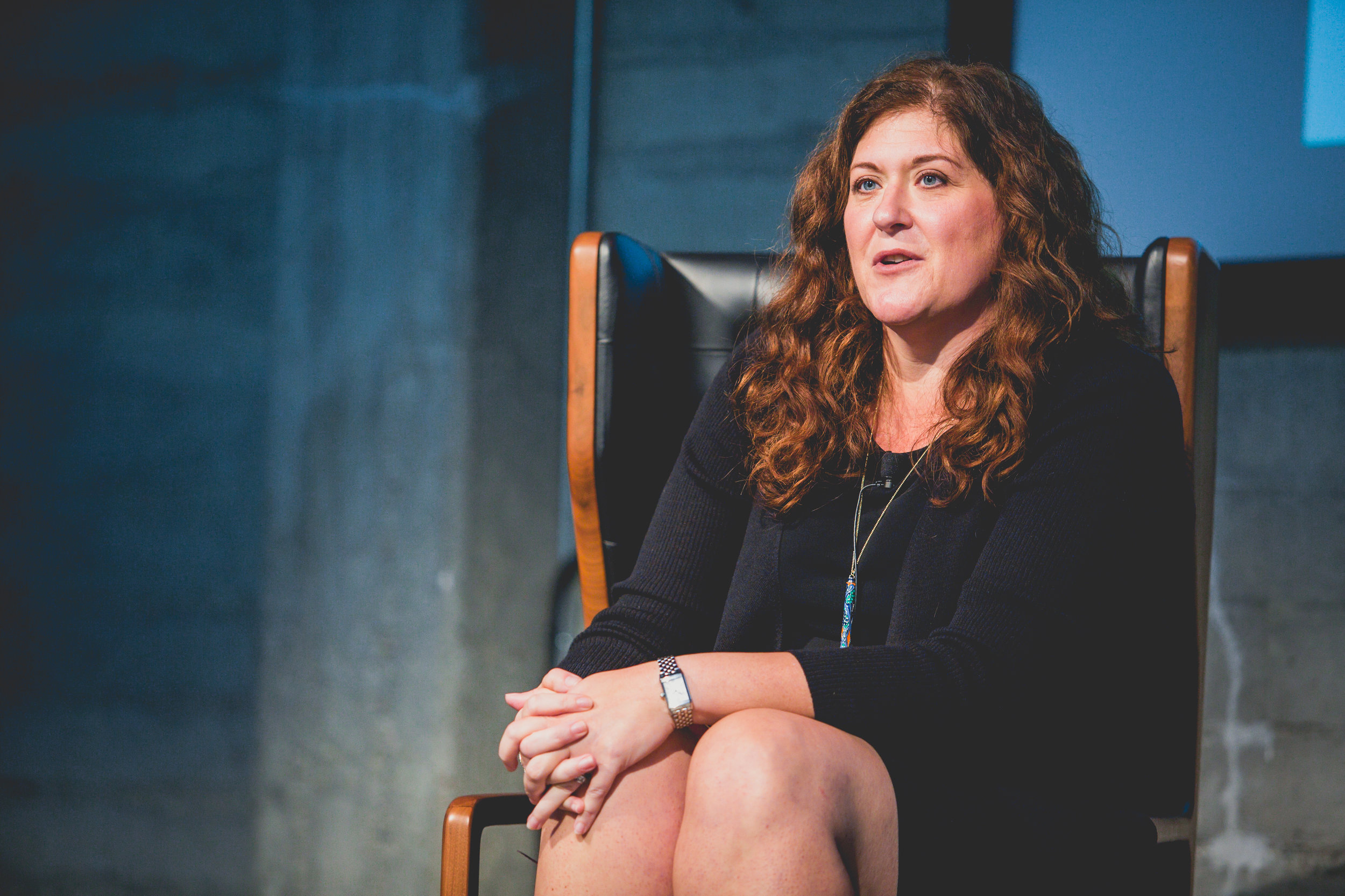 Keep Employees Focused on their Day Job
"Think about how to keep people engaged in their day jobs," and remember "what it was that got us here in the first place." Avoid distraction leading up to (and after) the IPO by reminding your employees that their efforts will be reflected in your public filings.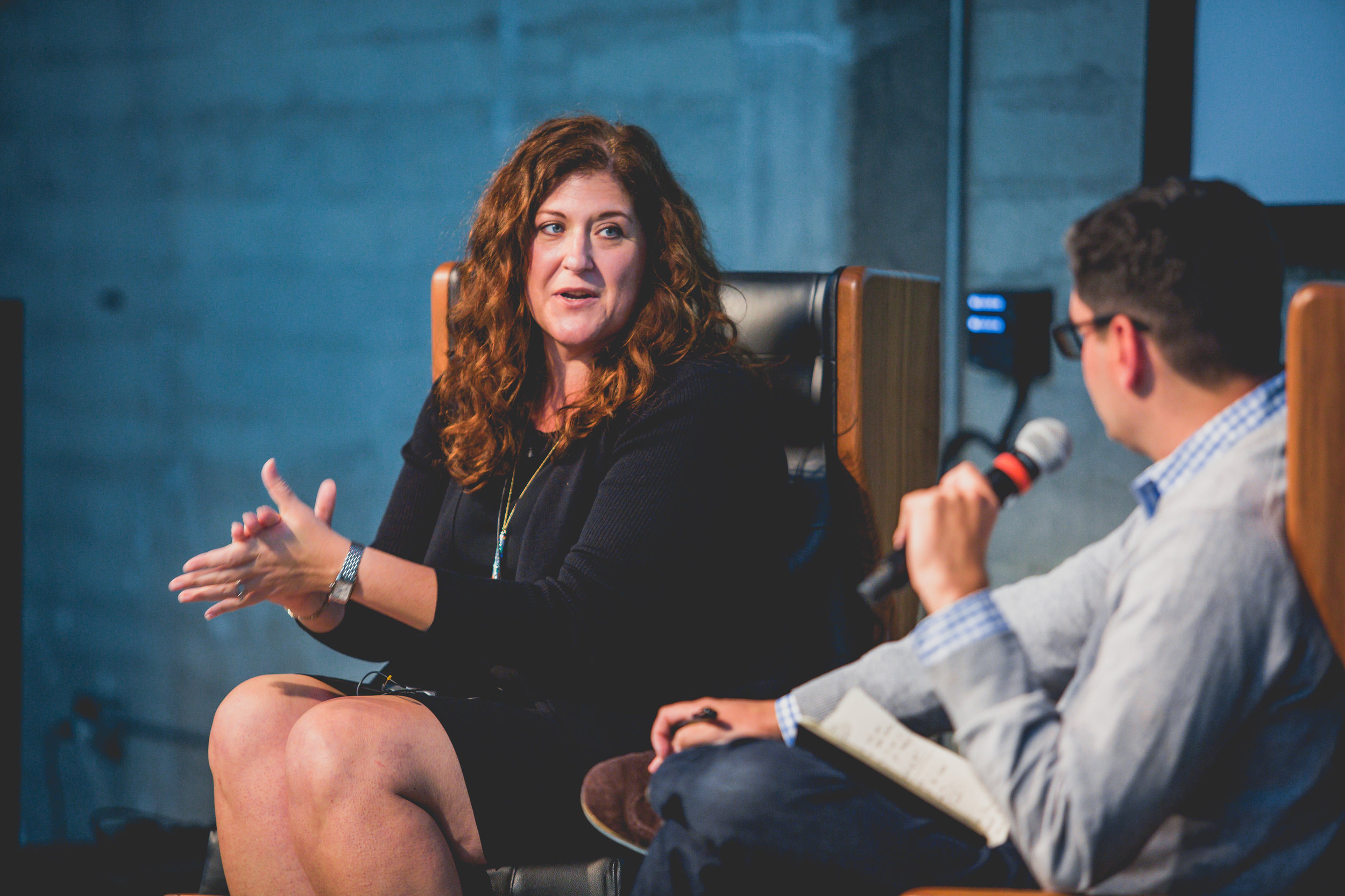 Think about Culture
Startups often tout a highly transparent culture and an aversion to the bureaucracy and processes that may come with becoming a public company. Find a balance around sharing company information and legal processes while preserving your culture.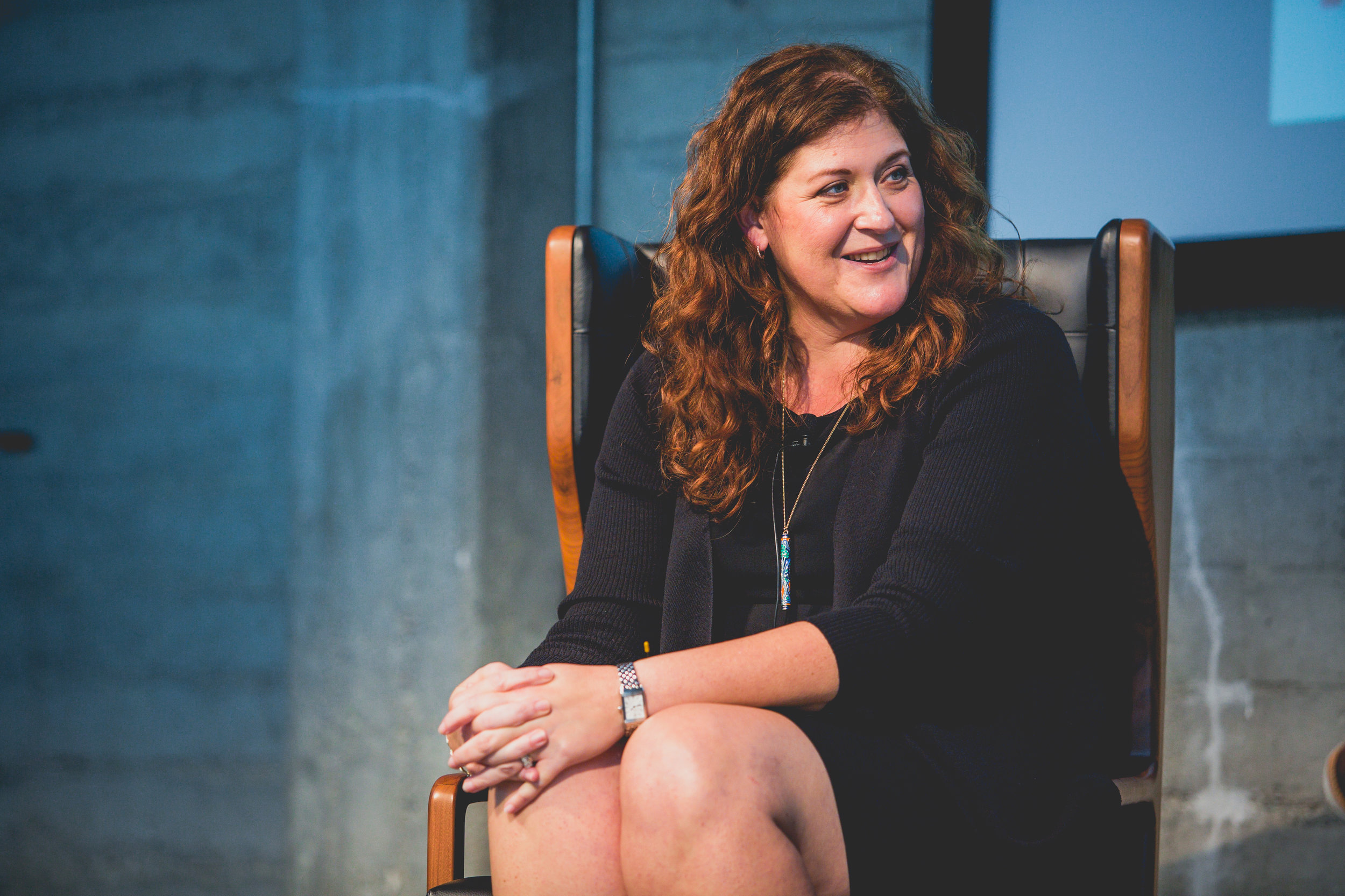 Clean House and Build a Quality Team
It's very helpful to get your corporate documents in order (including, particularly, your board book) and to get in front of any potential tax, securities (including equity vesting) or audit issues. Quality advisors (law firms, bankers and team members) can be very helpful on this front.
Panel: Laying the Groundwork for a Successful Acquisition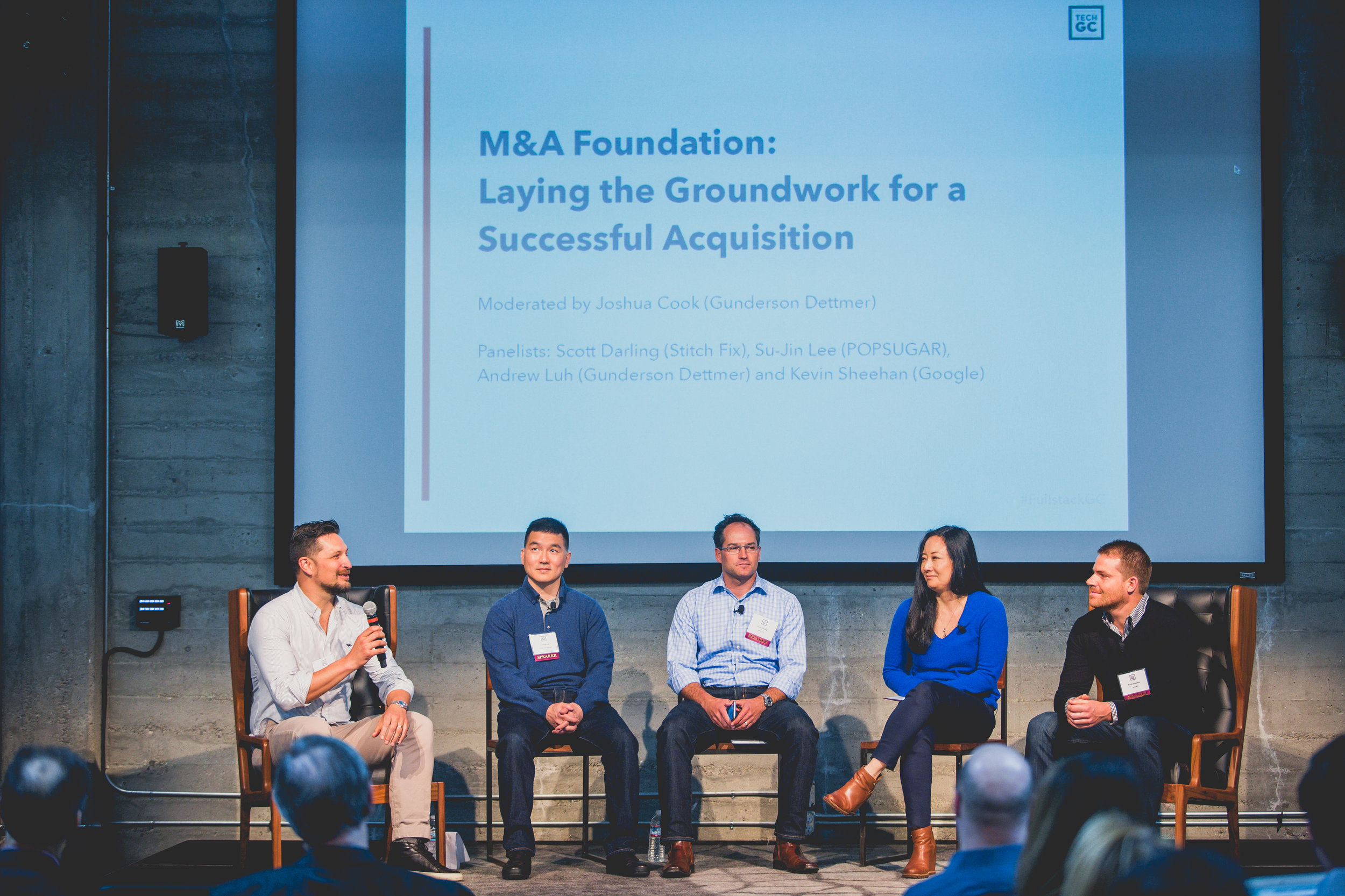 Moderated by Joshua Cook, Partner, Gunderson Dettmer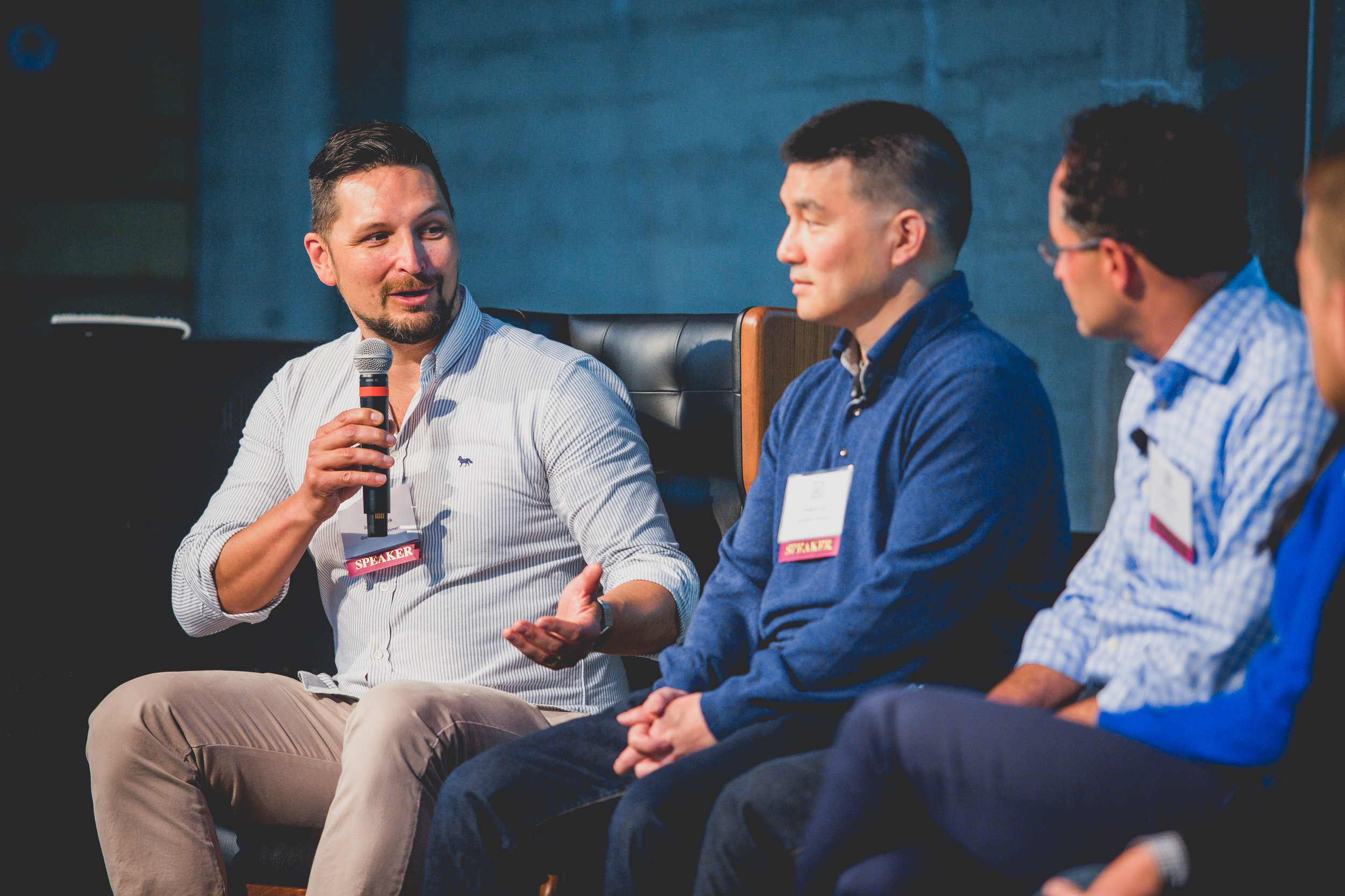 Be Prepared
Having a well-organized legal department helps not just for M&A, but also for operating a business. Strong contract management, document retention programs, and being organized make you look better to a potential acquirer.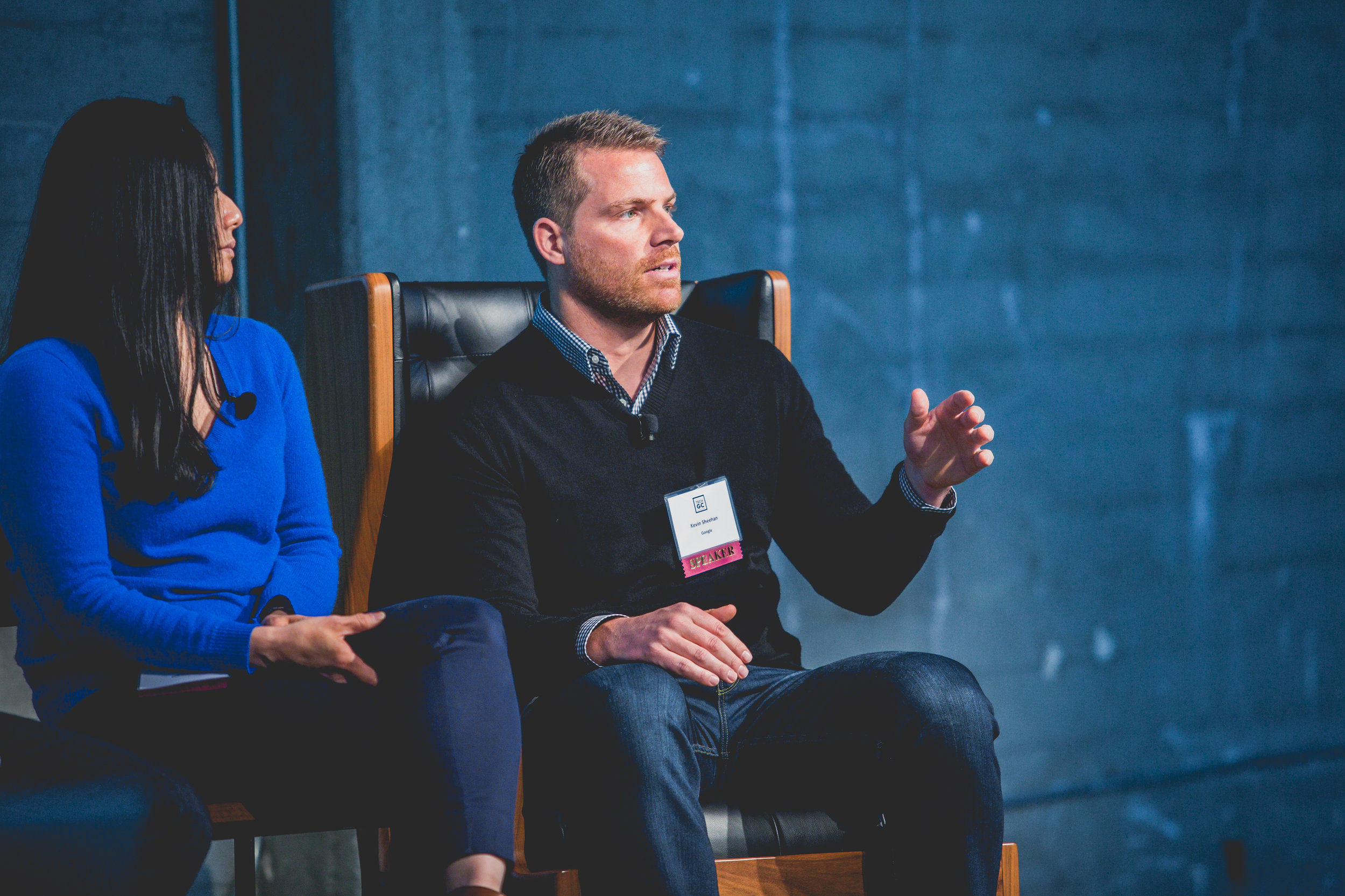 Kevin Sheehan, Corporate Development, Google
In preparing, consider what might be most important to a potential acquirer in your space (e.g., talent acquisition, founder retention, IP issues). Open source licenses and privacy have been trending issues for acquirers like Google.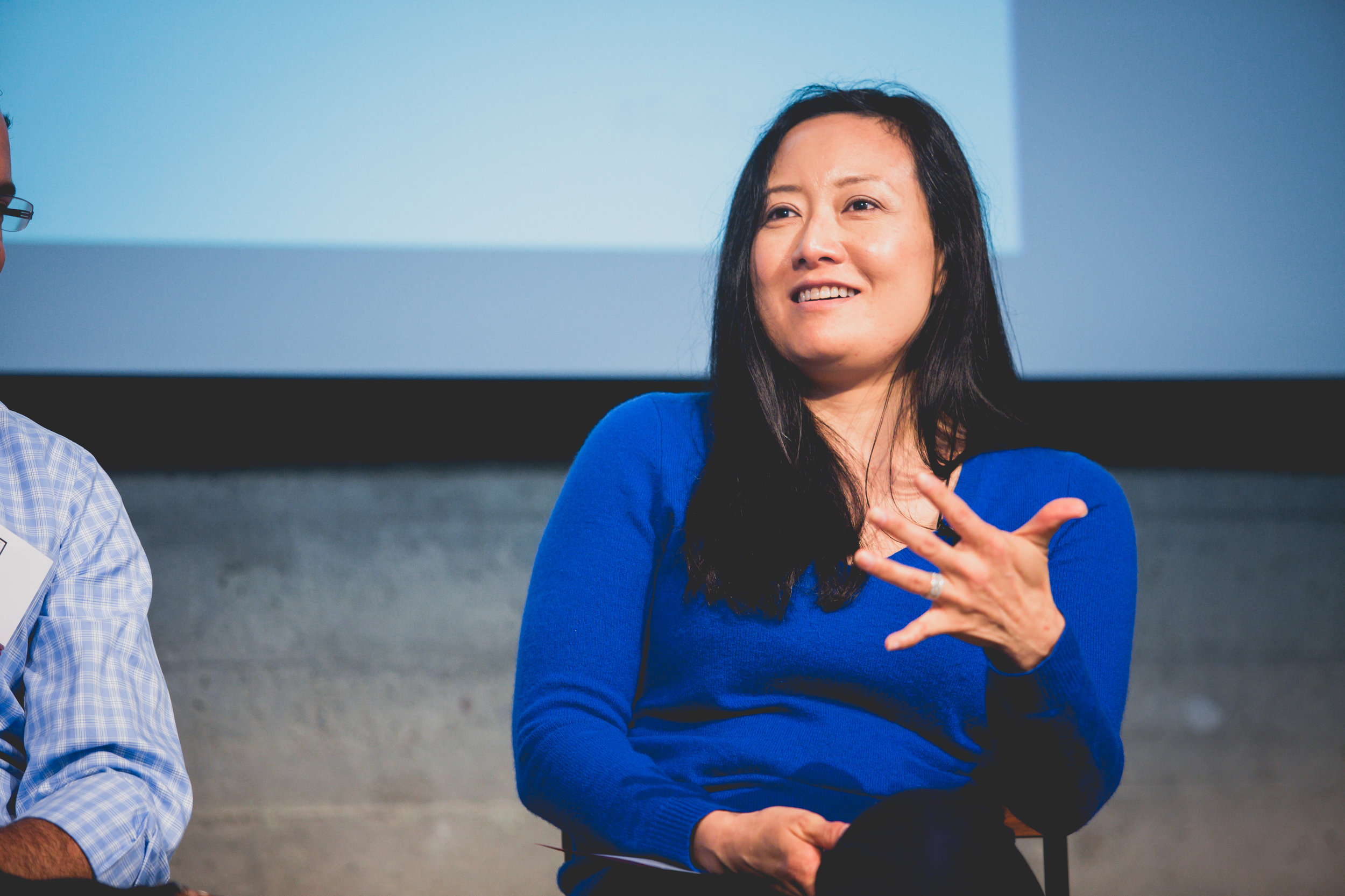 Su-Jin Lee, General Counsel, POPSUGAR
You can use an M&A context to help frame why issues are important to key team members. One tactic is to ask for a general ledger for the last two years and look for gaps. For example, you may discover that your engineers are entering into click-wrap agreements without your knowledge.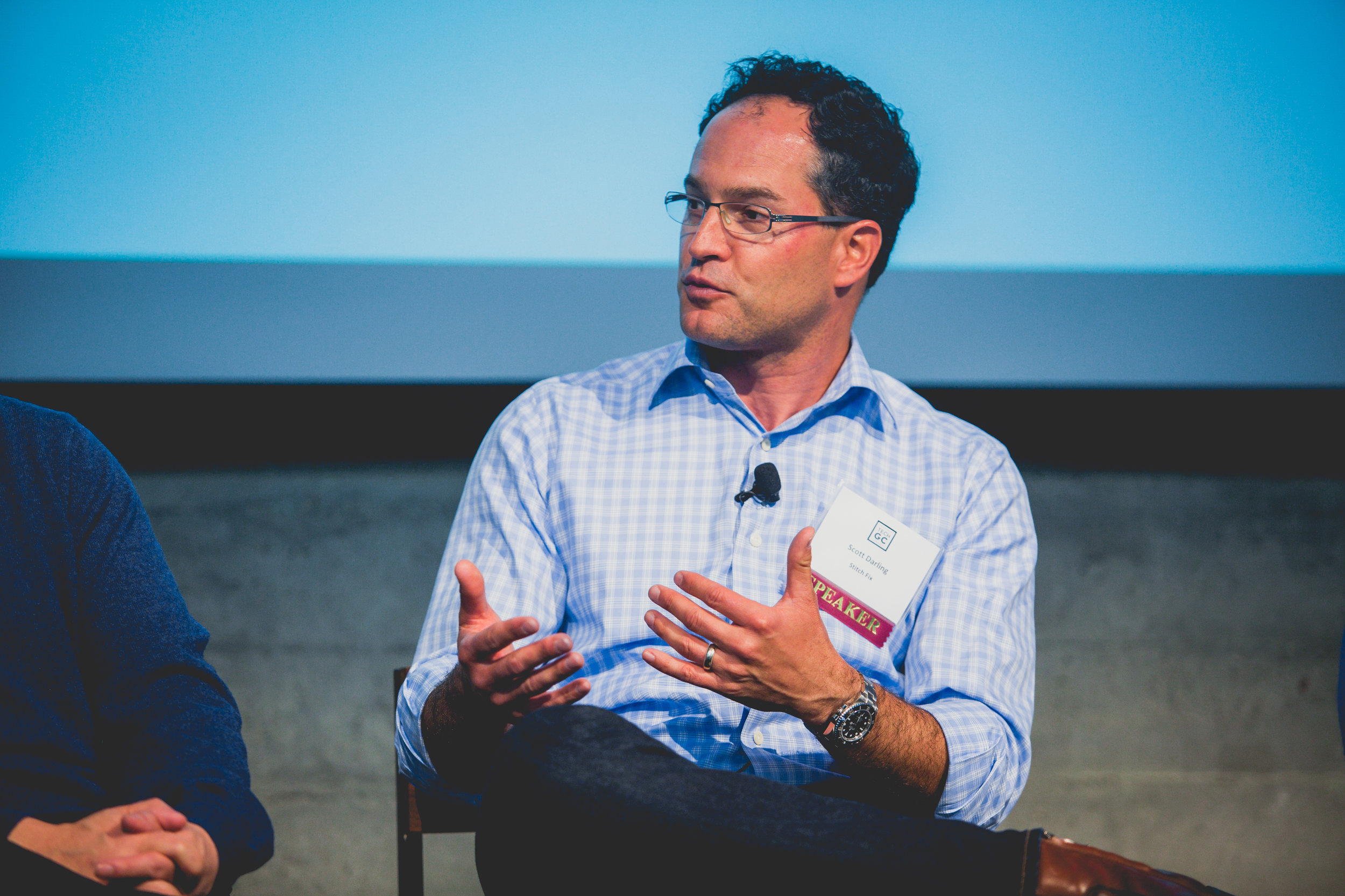 Scott Darling, General Counsel, Stitch-Fix
A special skill of great GCs is to build internal consensus and make the case to get the deal done.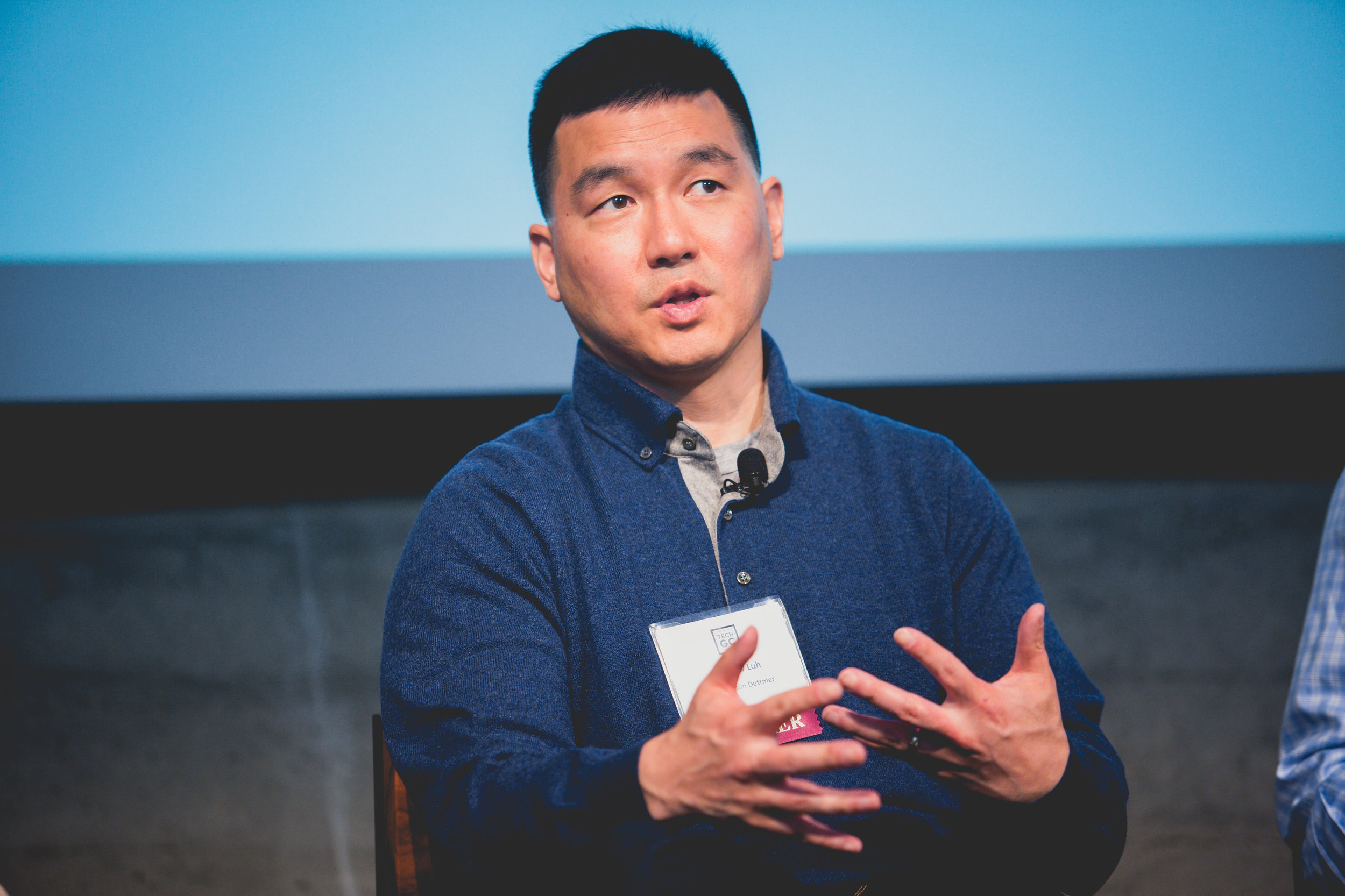 Andrew Luh, Partner and Head of M&A, Gunderson Dettmer
The GC is usually involved from the very beginning at the NDA or LOI stage, whereas outside counsel may come in later in the process. The GC has the secret sauce of institutional knowledge while outside counsel typically has more experience with the transaction process. It's important for the GC to socialize any issues with external counsel and key stakeholders early in the process.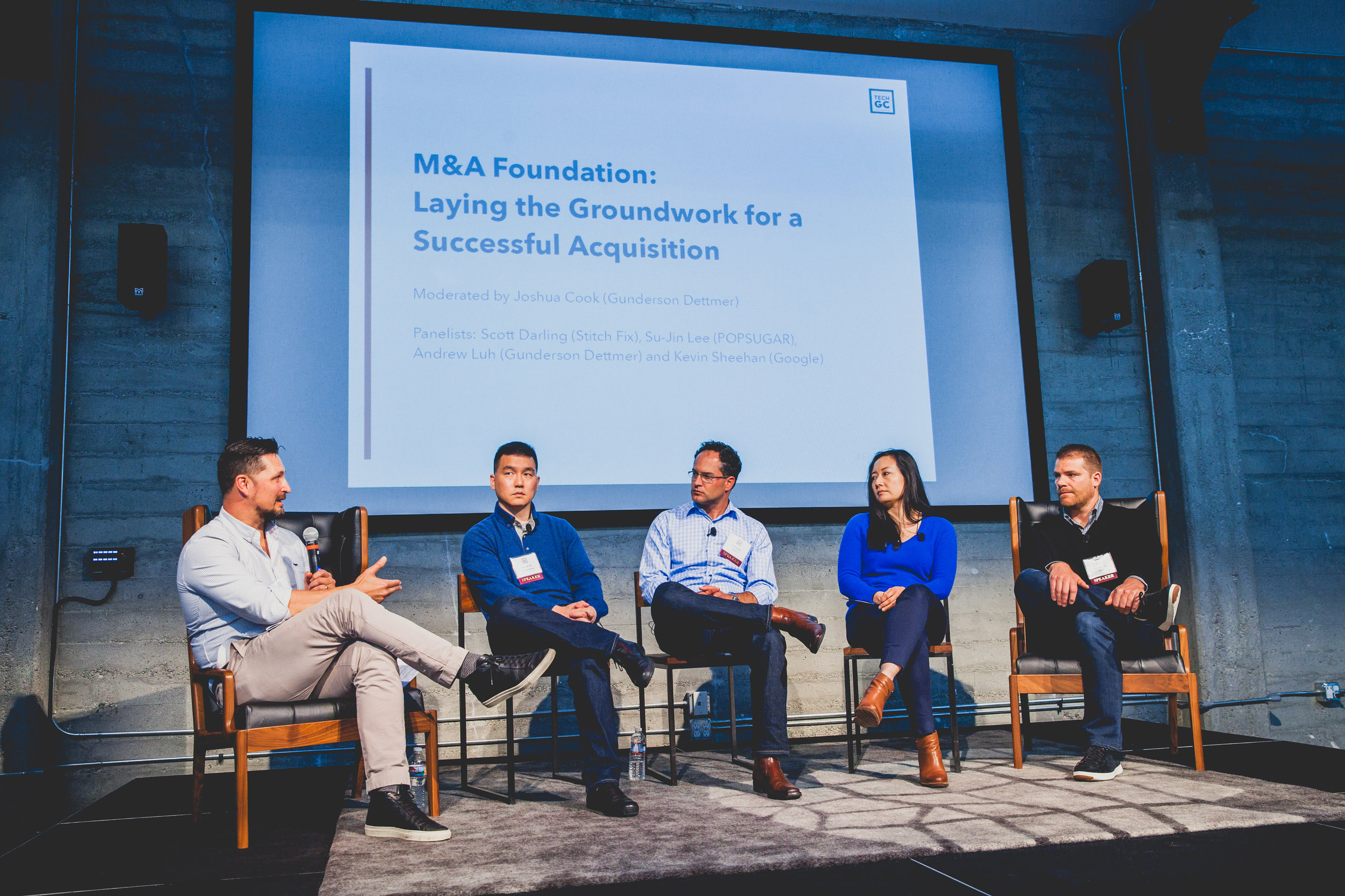 It's about the People
Every acquisition for Google is a talent acquisition. It's about the people and at the end of the day you want to make sure they're happy.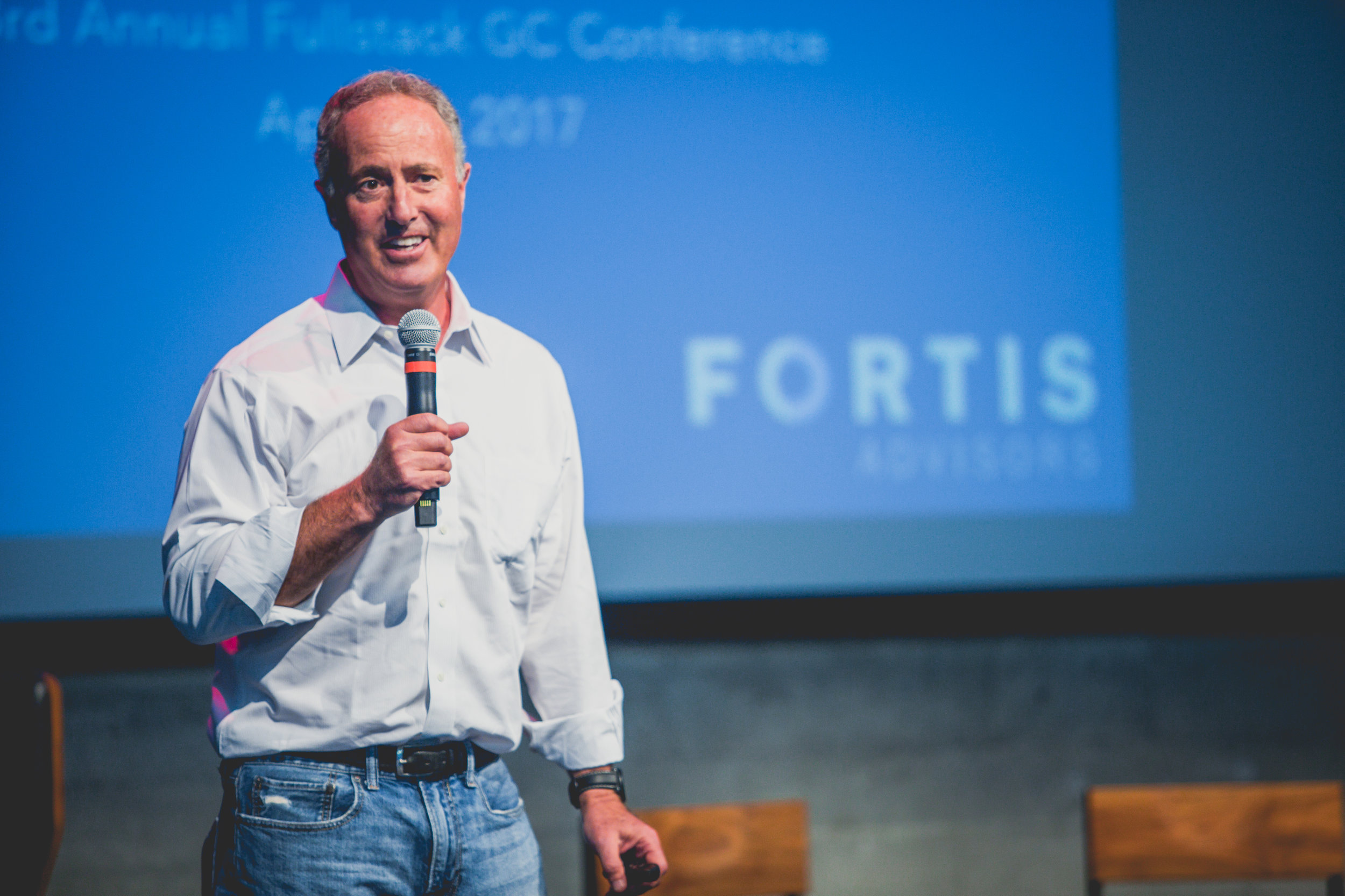 Rick Fink, Chief Executive Officer, Fortis Advisors
Structure your Purchase Agreement such that the Seller retains some skin in the game.
The In-house Hiring Trifecta: IQ, EQ and Fit by Seth Weissman, Former General Counsel, Solar City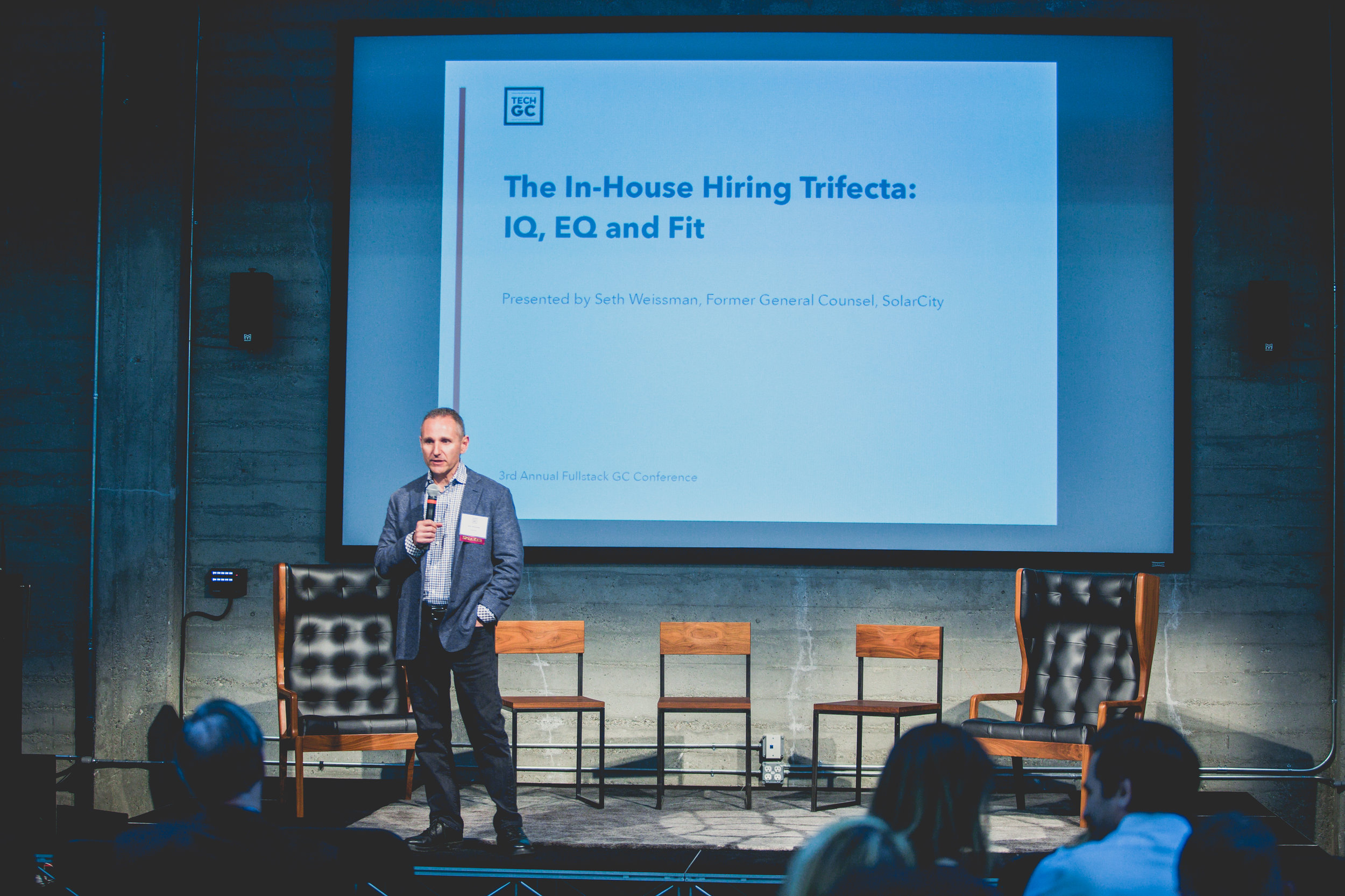 Seth Weissman, Former General Counsel, Solar City
IQ without EQ is a Ferrari on Ice. You have all this power but you can't go anywhere because you are spinning your wheels. There are diminishing marginal returns on IQ.
EQ (Emotional Intelligence)
EQ = Personal Competence (Self-awareness + Self Management) + Social Competence (Social Awareness + Relationship Management)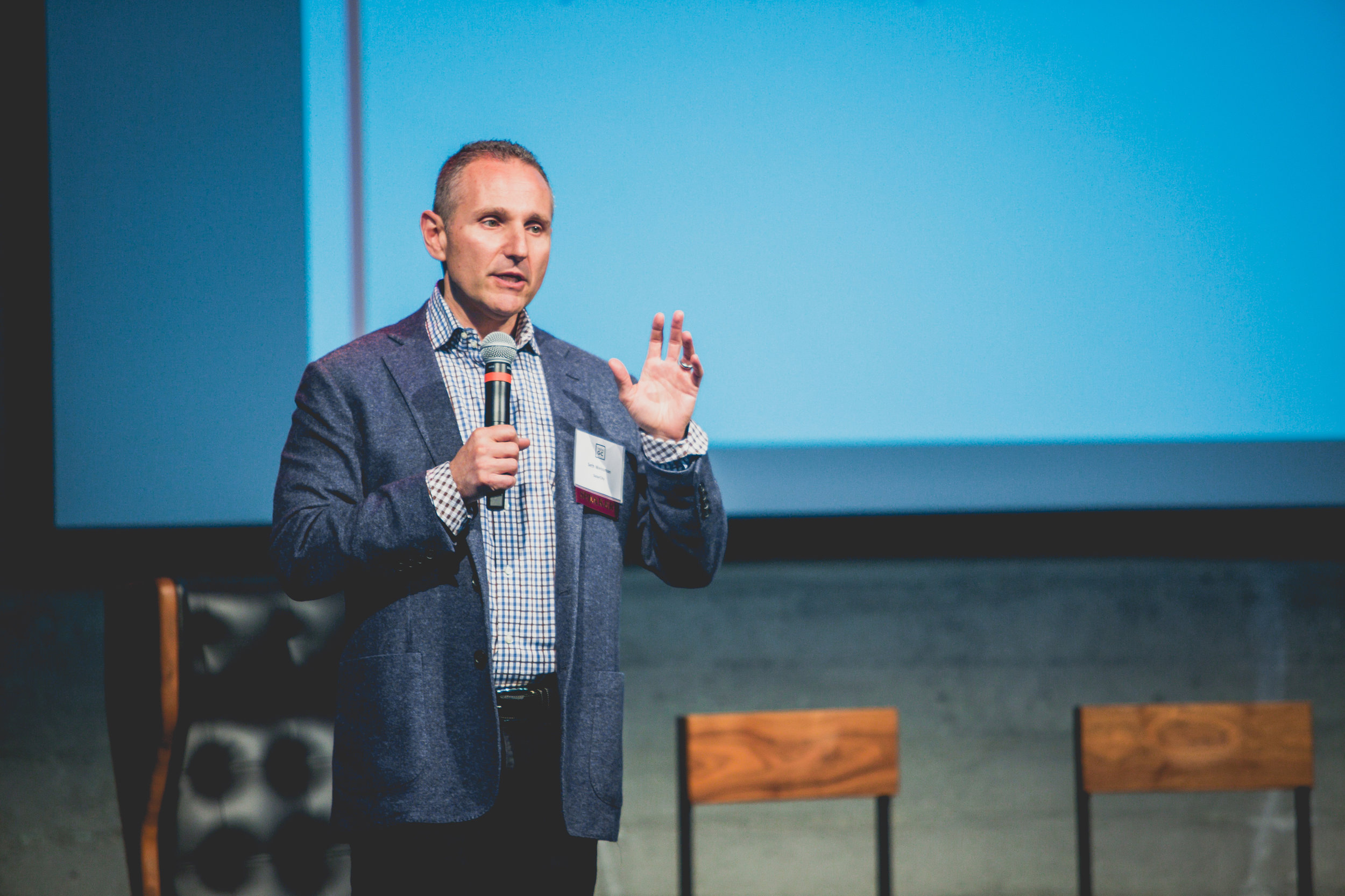 EQ without Fit=Ferrari for Family of 6 plus 2 Dogs
Talk to your team to determine fit criteria. What do they like about working with their colleagues and distill it into 5-10 criteria.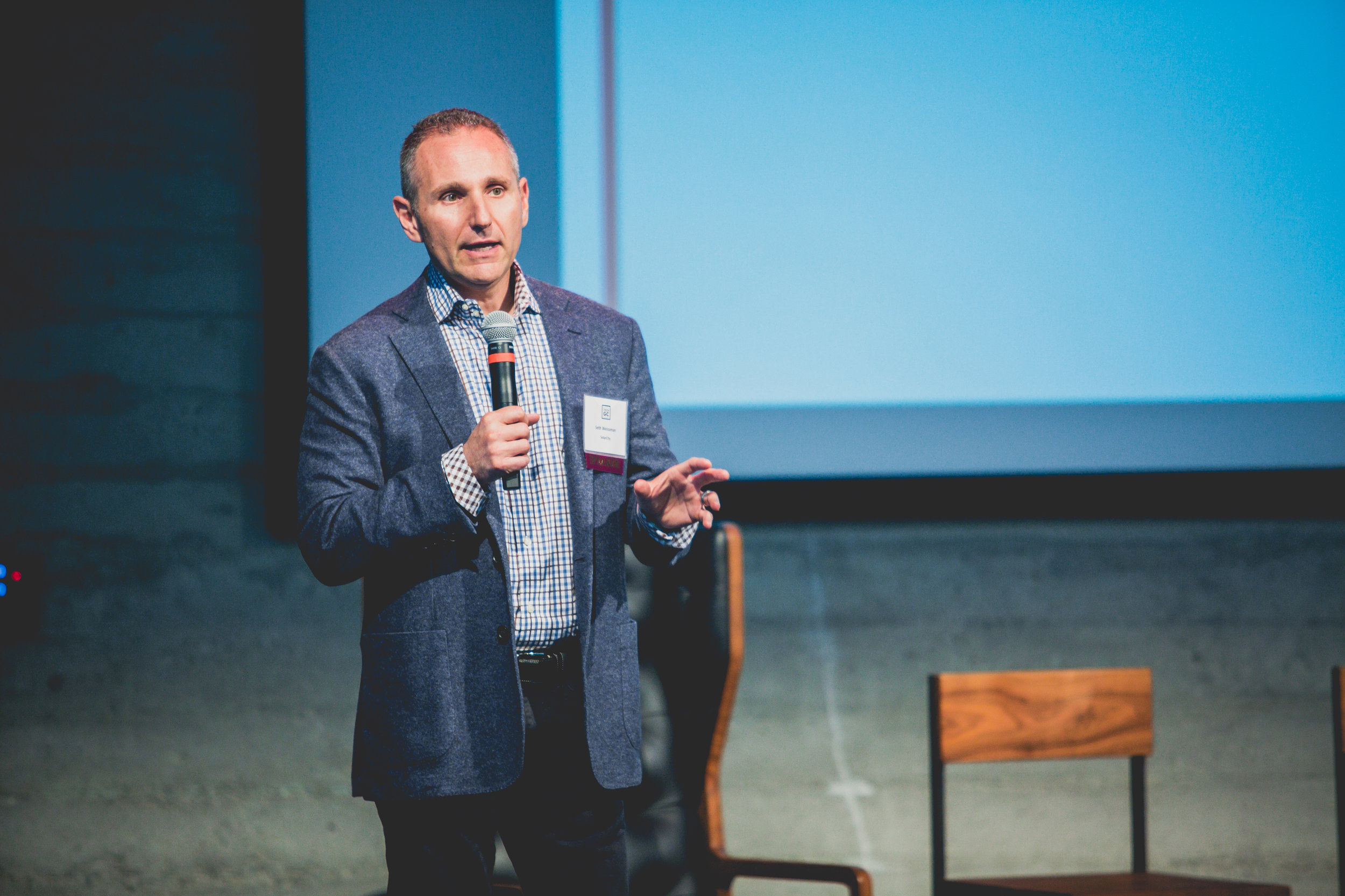 Stop Hiring YOU
Avoid confirmation bias. If you're a procrastinator, go find the person that gets their laundry done before they run out.
Measuring Risk Tolerance
Look for candidates who analyze risk in a mathematical way. Never say no, say "Yes, but..." Never say "I told you so", say "I want you to remember this conversation."
Navigating Turbulent Times by Joshua Stein, General Counsel, Zenefits
Joshua Stein, General Counsel, Zenefits
All startups are Greek dramas, some ending in tragedy and others in triumph.
Crisis Management
Documenting the problem is not the problem. The problem is the problem. Share information and get stuff done.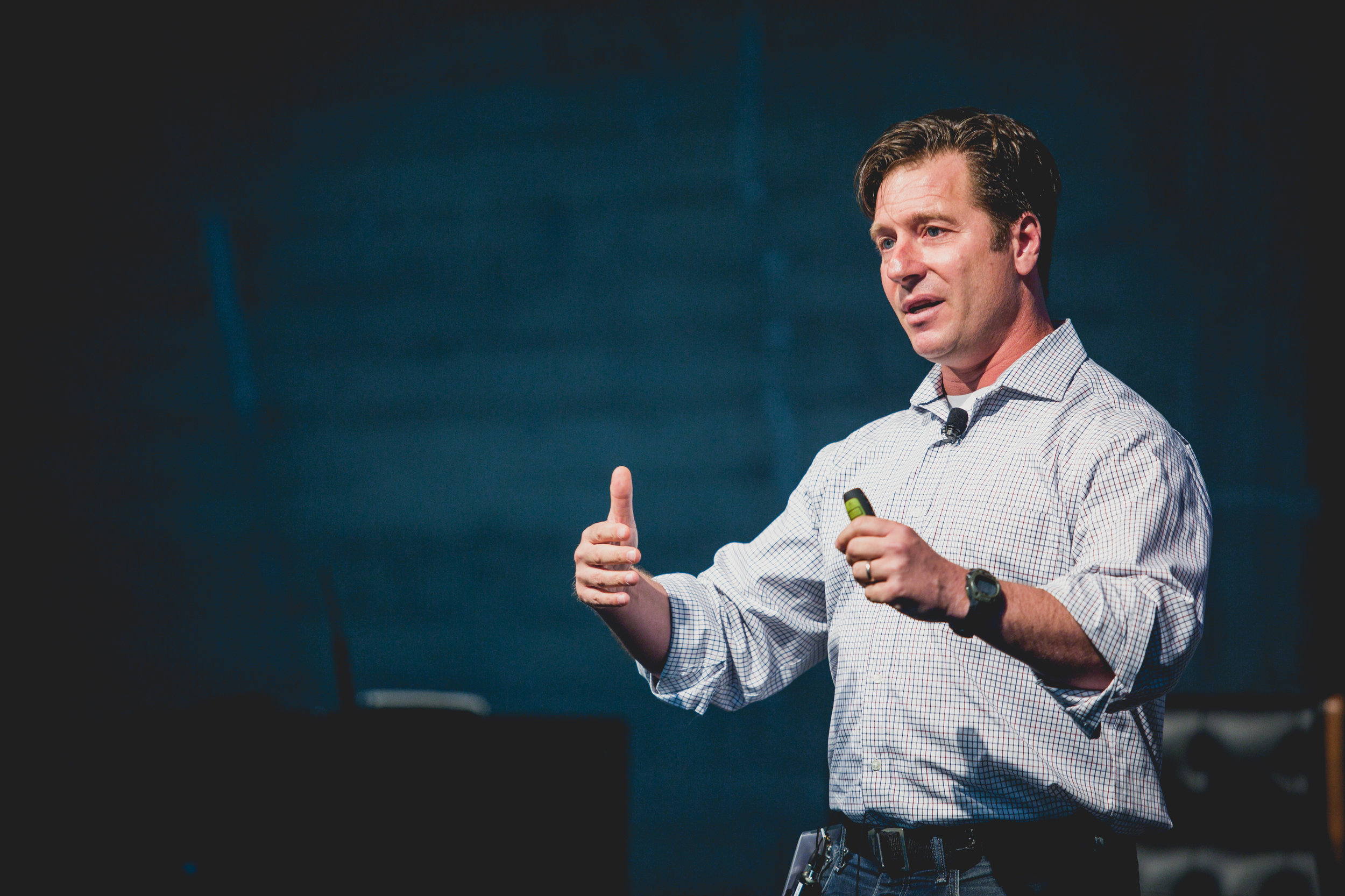 Role of the GC
Part of a GC's role is to be the contrarian, the voice of the regulator, the voice of the public, and to frame these issues for the executive team.
Building the Machinery to Manage Legal Risk in a Hyper-Growth Environment by Lindsey Haswell, Director of Litigation, Uber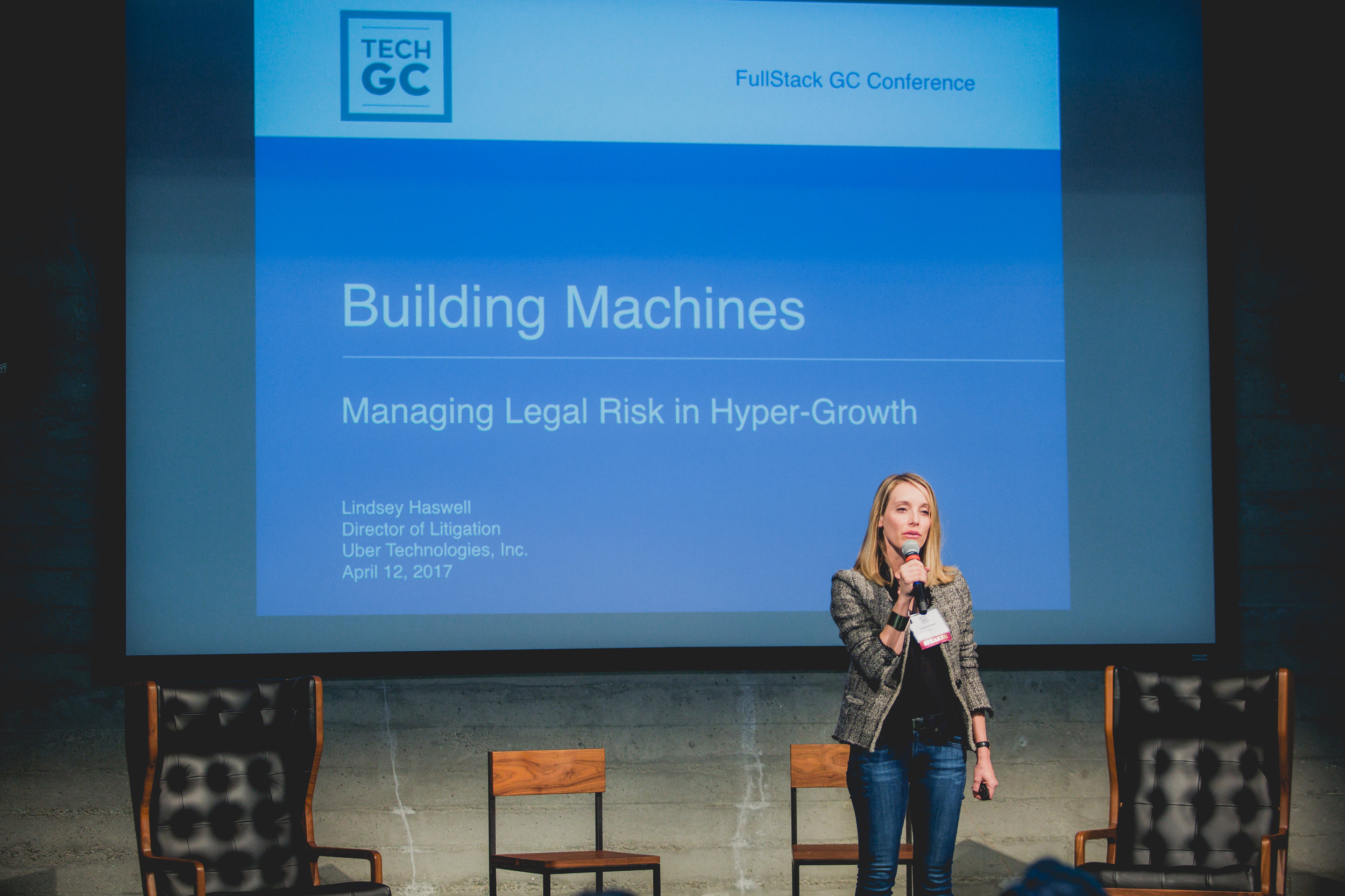 Lindsey Haswell, Director of Litigation, Uber
Processes and Procedures = Machines. Machines make you a better lawyer, make your teams more efficient, improve your career and standing in the company and will help your company deliver long-term value to its shareholders.
Low Hanging Fruit
It is never a good time to build machines, but it is worth the time investment. Building machines will not only help you put out fires faster, but prevent them from starting in the first place. And if done right, they can enhance your standing in the company. Start with the easy stuff: arbitration clauses, email retention policies, contract management systems and hiring.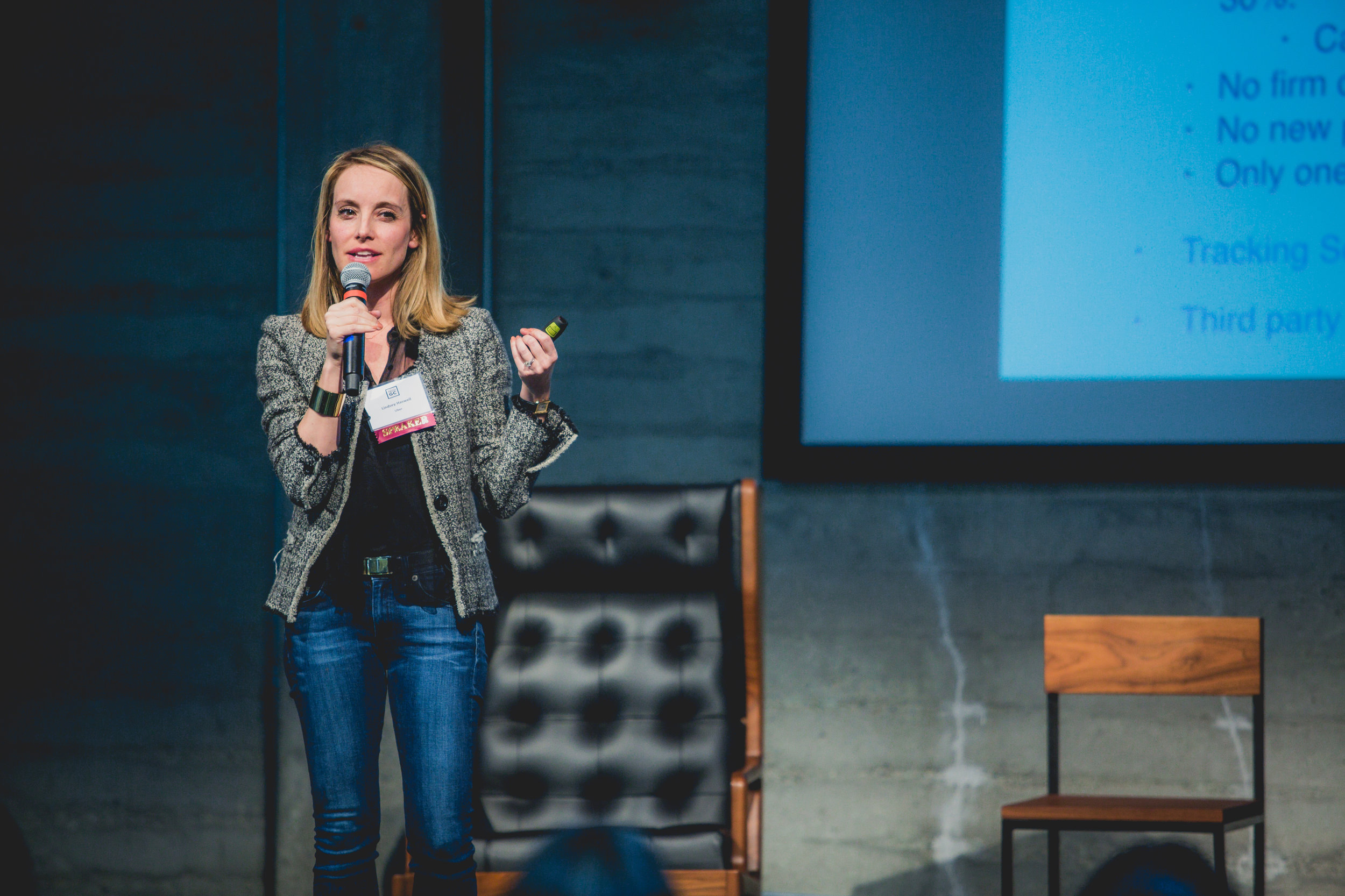 Paying Less, Getting More
Use the 'who you're gonna' be' method for extracting discounts from law firms and vendors. Get them to invest in you by selling them on your company's mission. Implement substantive RFP processes, billing guidelines and billing tracking software.
Product Machinery (Getting a Seat at the Table)
Engage with your engineering team and speak their language. Build legal checkpoints into the RFC process. Ask them to A/B test your way vs. their way and see if there is a negative impact.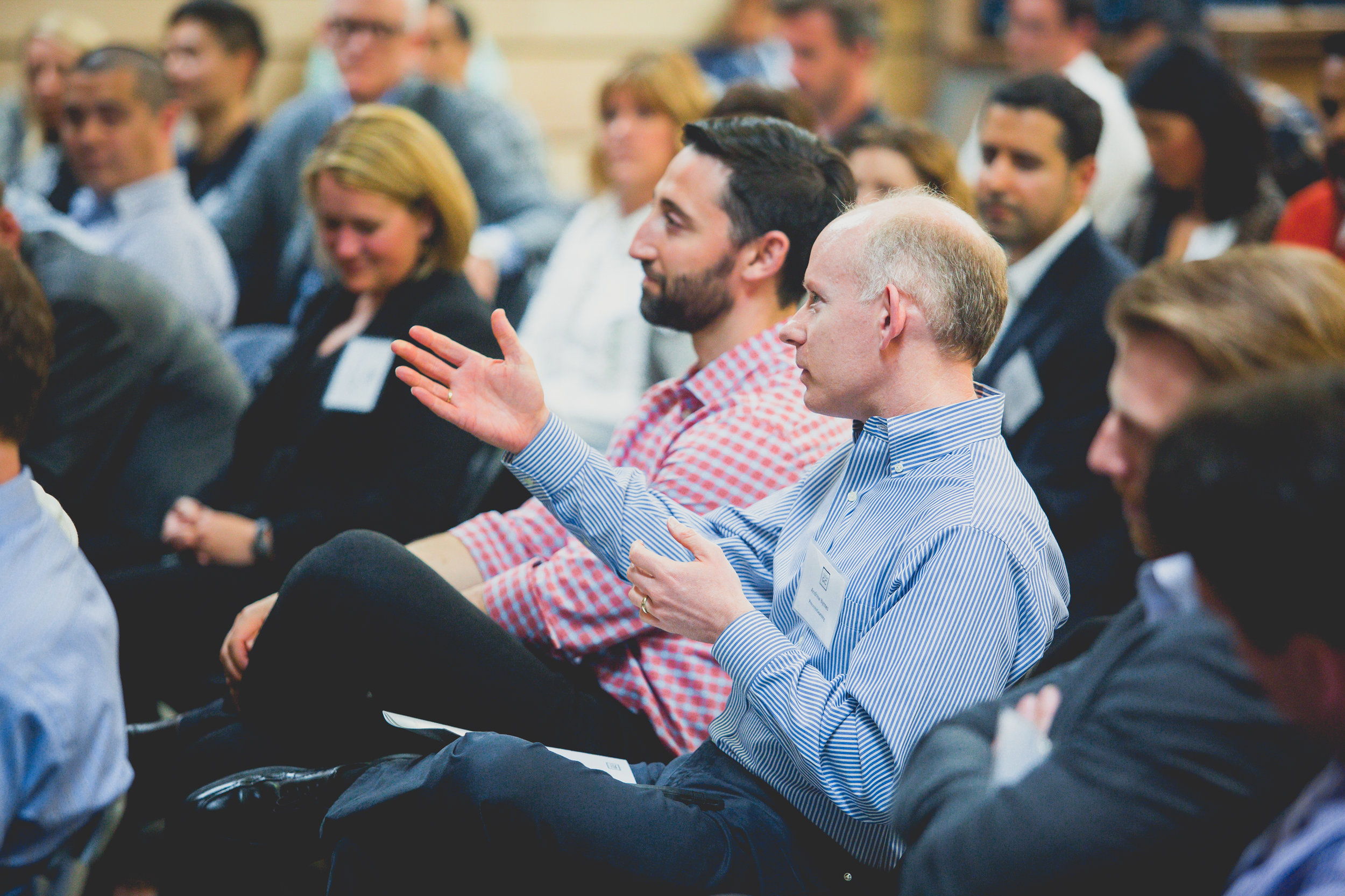 Cost-side Machinery (Justifying your Existence)
Use data analytics to demonstrate performance and showcase at quarterly business reviews (i.e. spend vs. budget, litigation outcomes). Data can be used to build a case for additional headcount.
Time Management Machinery (Your Time is Not Free)
Set up self-serve legal service. Hold legal office hours. Train business-side issue spotters. Automate certain tasks where possible (i.e. standard subpoena responses).
Panel: General Counsel as Policy Advocate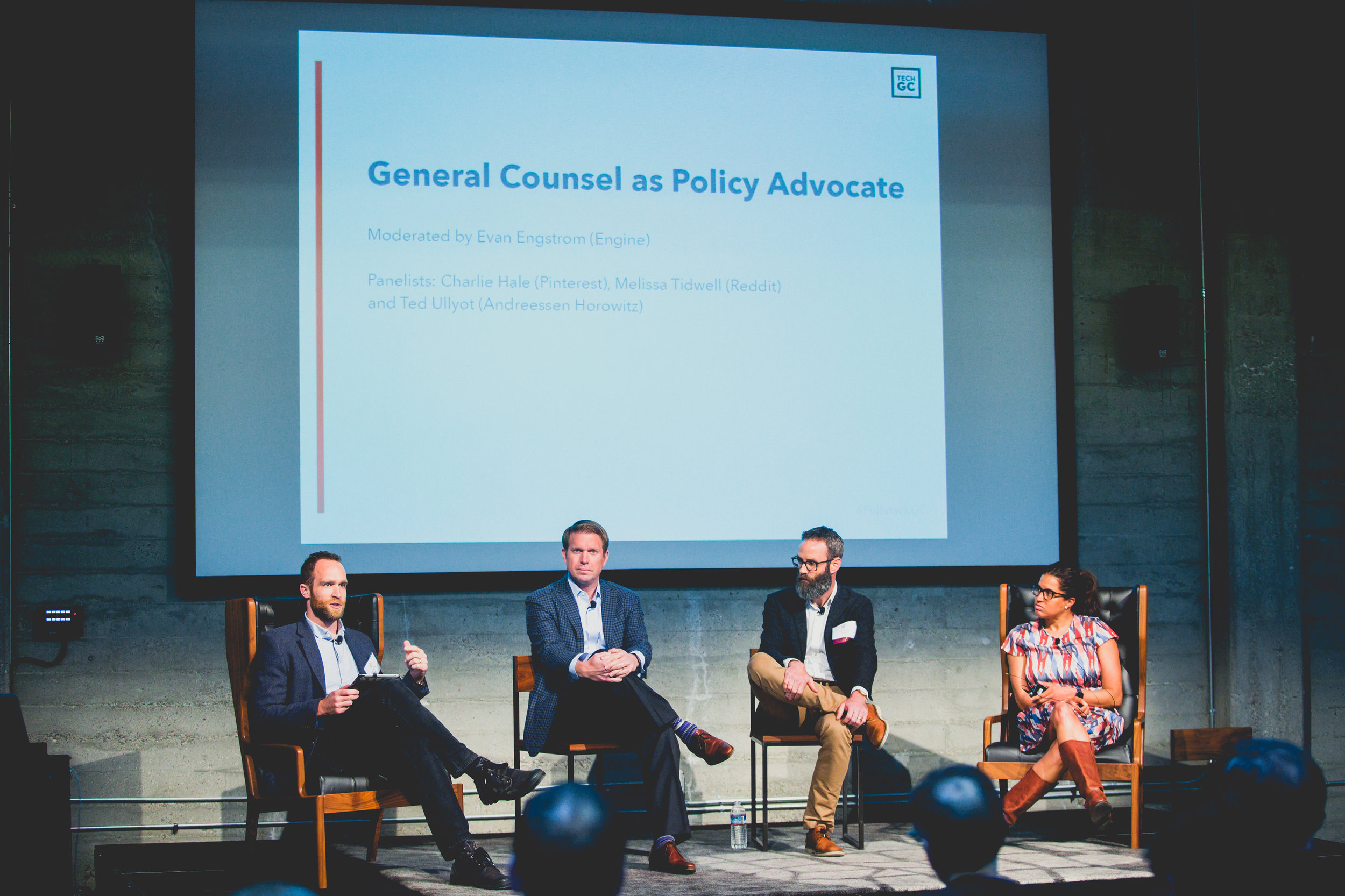 Moderated by Evan Engstrom, Executive Director, Engine
Policy makers are desperate to help tech companies. You have a really strong voice if you want to leverage it for your company, your industry, the startup ecosystem and beyond.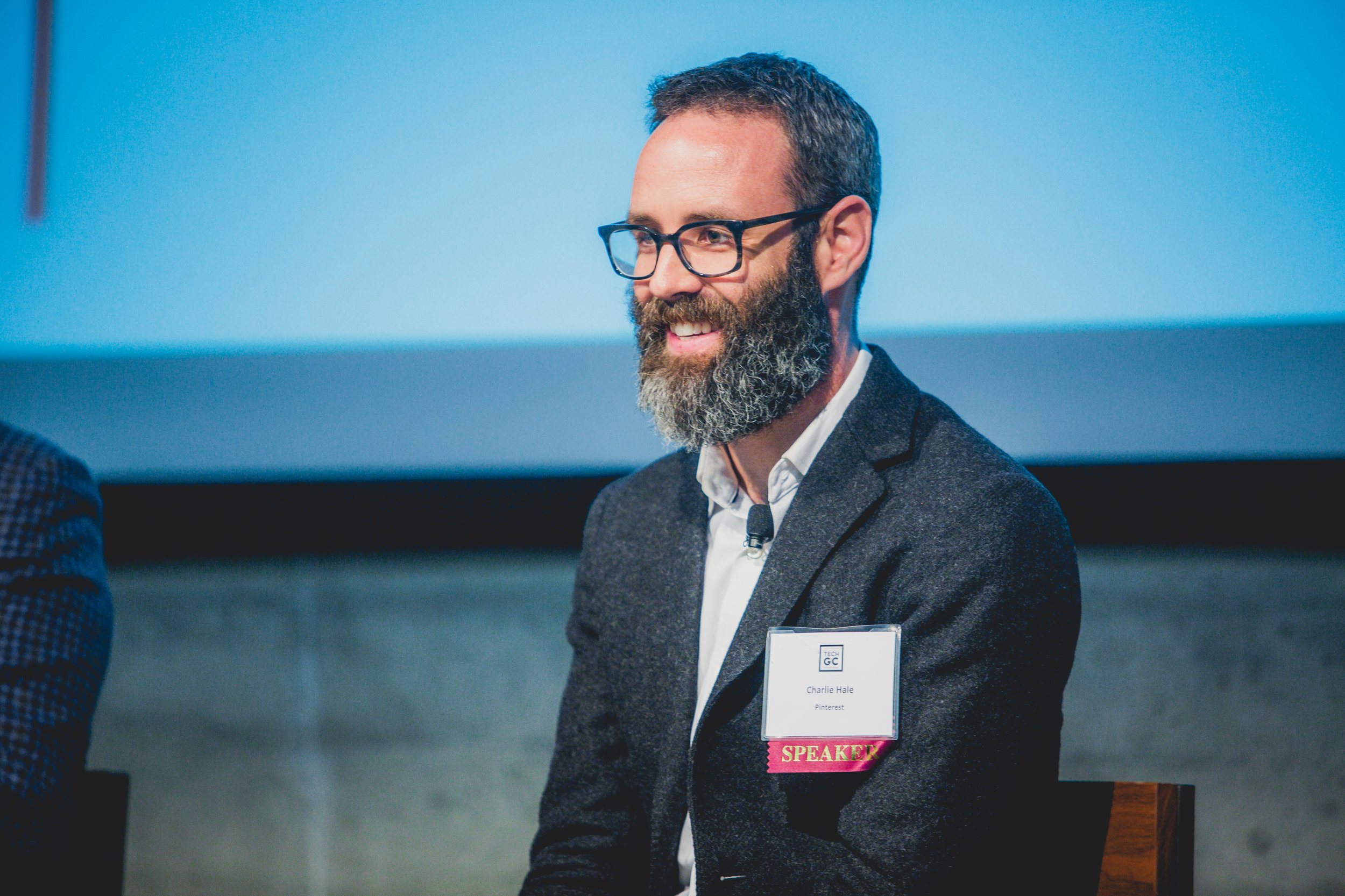 Charlie Hale, Head of Public Policy, Pinterest
Engaging early can have benefits. The first time you are on a policy maker's radar, ideally it should be for something good.
Melissa Tidwell, General Counsel, Reddit
Build key policy relationships and engage with trade associations. Otherwise, it's hard when you don't know what you don't know.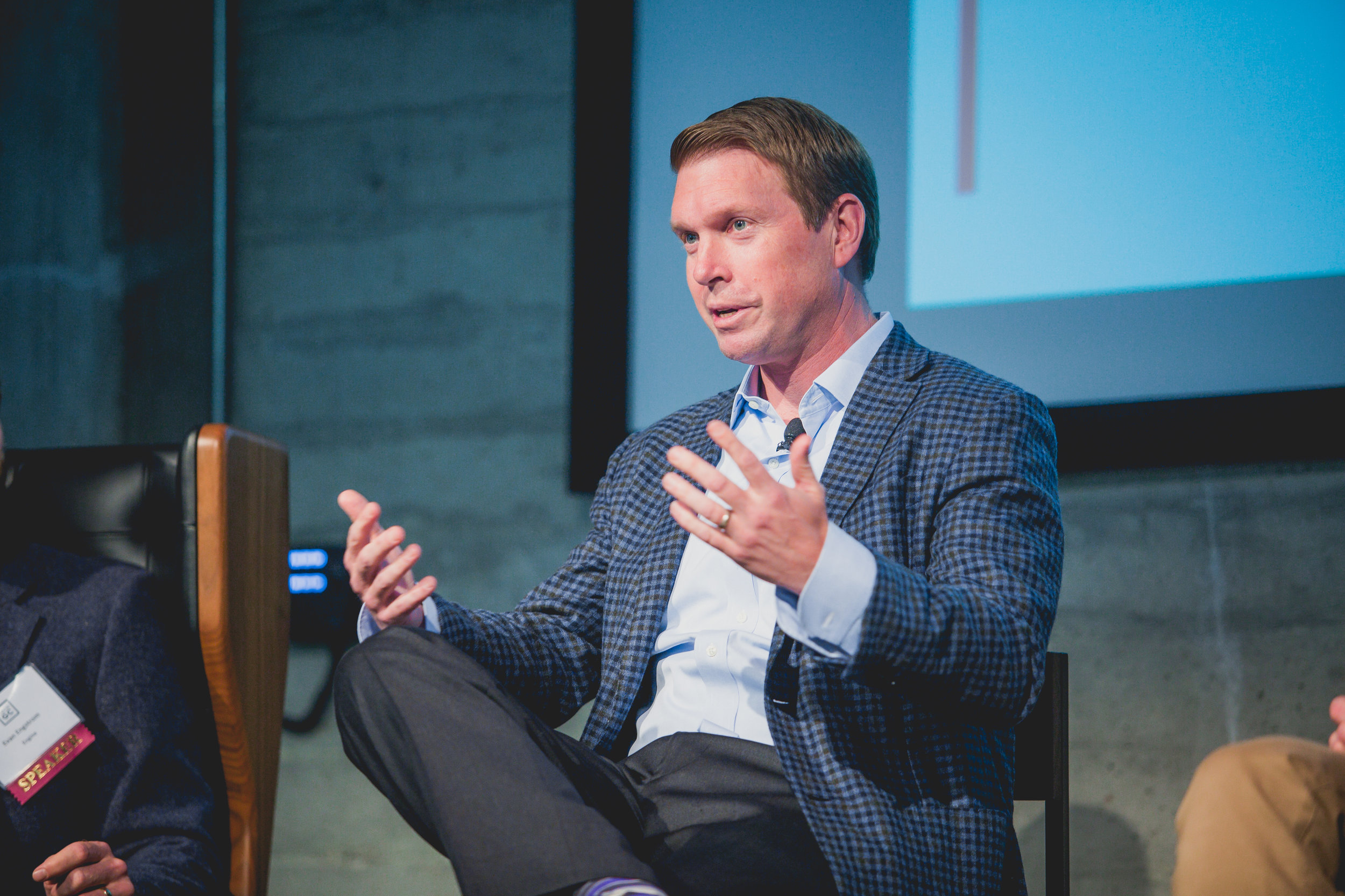 Ted Ullyot, Partner and Head of Public Policy, Andreessen Horowitz
When talking to regulators, look for opportunities to tell the pro-innovation case and reframe the conversation. Why is your company good for society, jobs, the economy or otherwise?
Closing Reception: Unicorn Dreams and Downround Doldrums
"By far the most helpful and practical set of presentations I've seen in a long time. I took away tactical and strategic ideas. Thanks so much! Super high value day for me." -Anonymous Attendee